Band Bells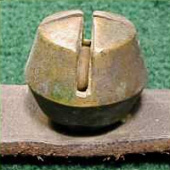 This angular style of bell appears to have been popular about the same time as the egg and round bells - in the late 1800s and early 1900s. The original manufacturers called them "band" or "bevel" bells.
The most common band bell is the "flat" type with a gently pointed, conical top (top photo). The Starr Bros. Bell Co. made this type of band bell. (1) The "pointed" band bell made by Bevin Bros. Mfg. Co. (2) is slightly taller and has a sharp conical top (bottom photo). A third design with a tall side and rounded top was produced by an unknown maker and is much less common than the other two types.
Both styles generally have one throat with no holes at the ends, but occasionally we find band bells with two throats. All band bells have a rivet-style base circled by four holes. More about rivet-style bells... Many were plated with nickel, although this plating is mostly gone on most of the bells seen today.
Band bells are all about 1 1/4 inches in diameter. These bells were usually attached 2 to 3 inches apart in a single row on an unlined leather body strap. The strap was typically 7/8 to 1 inch wide and 7 to 7 1/2 feet long.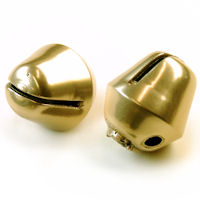 References