Swedish-style Bells
Swedish bells are the "big boys" of the horse bell world, often measuring 2 to 3 inches in diameter. Their size gives these bells a much louder, deeper "clanging" sound. Many Swedish bells (sometimes called Swiss or Norwegian bells) were made in America, then exported to Scandanavian countries, where they were very popular.
A distinctive feature of Swedish bells is the narrow throats (slits) that are cut or formed into each bell as it is made. The throats of other types of sleigh bells are usually formed during the casting process.
Traditional Swedish bells are cast brass. They have a distinct ridge around the middle and a graceful tulip shape. They are found in sizes from 1 3/4" to 3 1/4" diameter, although bells 2 1/4" and larger are the most common.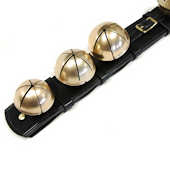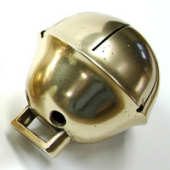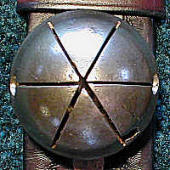 Traditional Swedish bells.
Left: Top view of a bell showing its three sawed throats.
Middle: The loop base is cast in place.
Right: Half of a rump strap with these bells.
A less common cast Swedish bell has a plump oval profile. We've nicknamed them "fat Albert" bells based on their rotund shape and the letter "A" we've seen on some. We have seen Fat Albert bells ranging in size from 1 1/2" to 3 1/4" diameter.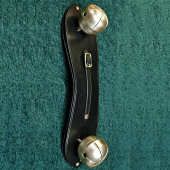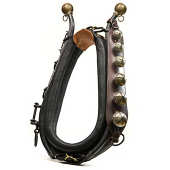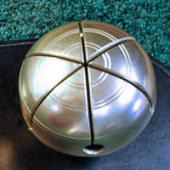 "Fat Albert" Swedish bells.
Left: A fat Albert bell with a delicate engraved design.
Middle: Fat Albert bells are often found on padded neck straps.
Right: Unusual style of rump strap from Minnesota with fat Albert bells.
A third type, called "improved Swedish" or "new pattern Swedish" by the original makers, were spherical bells stamped and formed from heavy sheet brass. These bells come in sizes ranging by 1/4" increments from 2 1/4" to 3" in diameter.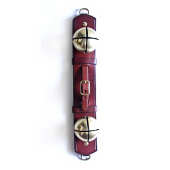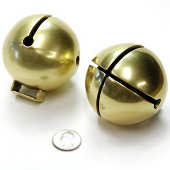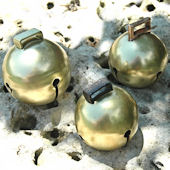 Improved Swedish bells.
Left: The loop is a separate metal "U" shape inserted into slots punched into the body of the bell. Loops are usually made of sheet brass, but can be steel or cast brass.
Middle: Improved Swedish bells have only two throats. Each throat ends in a circular opening.
Right:Two-bell rump strap with improved Swedish bells.
Because of their heft, large antique Swedish bells have a loop base that allows these heavy bells to be securely attached to their strap (see below). Smaller antique Swedish bells and all modern Swedish bells have a rivet or shank base rather than a loop. These bellsare attached to their strap with a standard figure-8 bell pin.
Larger Swedish bells of all three types are traditionally mounted on a rump (or hip) strap -- a wide, short strap of heavy leather with two to eight large bells that lies over the horse's back.
Smaller "Fat Albert" bells are also found on neck straps padded with straw or animal hair. The bells may be graduated in size or all the same size. A typical neck strap is made of two layers of medium weight leather stitched together along the long edges. Another type is actually two short straps, each with five or so bells, that hang down the sides the horse collar.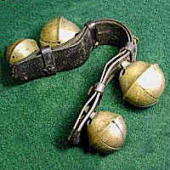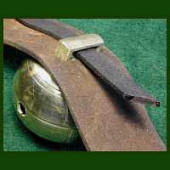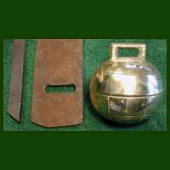 Assembling a rump strap with Swedish bells.
Left: A slot is cut in the main bell strap for each bell. The loop of the bell is inserted through the slot. A narrow "lock" strap threads through through the loop to lock the bell onto the main strap.
Middle: The wide loop on the base of each Swedish bell is inserted through a slot in the main strap. The lock strap is then threaded through the loop on the bell to lock it onto the main strap. The liner strap (not shown) completes the leather sandwich.
Right: Side view of the finished rump strap with four traditional Swedish bells. This view shows the wide liner strap and four leather "keeper loops" between each pair of bells that finish the rump strap assembly.