Other Bells
French animal bells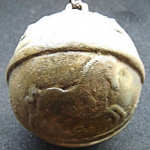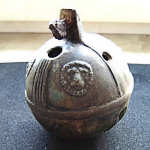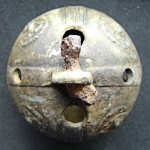 Crotal bells similar to the bell shown below were made in France about 1880. This series of bells featured about a dozen different animals and flowers and were made in at least 8 sizes. (1)
The bell pictured here, found in Germany, has leaping or rearing horses on either side of the throat (slit) and lion's heads circling the shank. A corroded iron bell pin is still in place on the shank.
The leaping-horse version of this bell has been reproduced and sold in the US in recent decades. The reproduction has a standing horse in place of the lion's head. (1)
Indian and Asian bells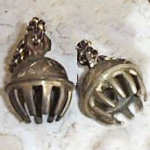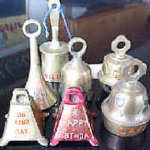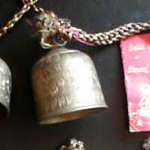 We often receive inquiries about collectible brass bells similar to those shown. They are often made in India, China, and other Asian countries.
These bells are typically intended for use as gifts and souvenirs, not as horse bells.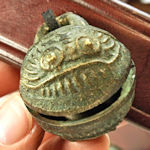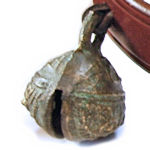 Collectible bells
Some companies offer sterling silver, silver-plated, or nickel silver collectible bells. Although these bells look similar to horse bells, they are intended for display only.
Reed and Barton, Gorham, Towle, Leonard, Hallmark, and Wallace are company names to research.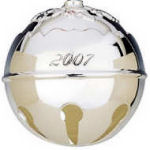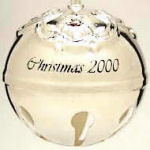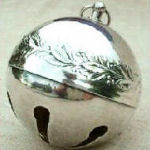 Hawk or falconer's bells
Falconer's bells are small bells that are attached to the legs of captive hawks, eagles, falcons and other raptors used for hunting.
Some horse bells are similar in shape to falconer's bells, but they are much too large and heavy to be worn by birds.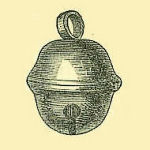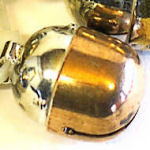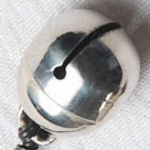 References
(1) Don Livingston, sleigh bell collector. Personal communication, 2 April 2010.